Past Issues
|
Subscribe
|
Send to a Friend
|
optometriceducation.org
April 2022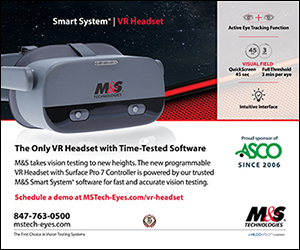 ASCO News
In the Johnson & Johnson exhibit booth during the SECO convention, the Association of Schools and Colleges of Optometry (ASCO) and Johnson & Johnson Vision announced the start of a unique partnership with an unprecedented sponsorship to address the need for greater diversity in optometry.
The ASCO Board of Directors held its spring meeting in person in New Orleans on March 9. It was wonderful to see many board members and staff in person for the first time in years and to be able to do it safely.
ASCO and the Ethics Educators special interest group are pleased to announce Andrea Meagher as the winner of the 2022 Student Award in Clinical Ethics.
ASCO's next Online Clinical Educators Forum (OCEF) is scheduled for Friday, June 3, 2022 from 12:30 p.m. – 2 p.m. ET and continues the communication theme and informal panel conversation style of the fall OCEF which focused on family communication.
Female faculty comprise 60.4% of total faculty at the U.S. schools and colleges of optometry in 2021-22, according to ASCO's 2021-22
Annual Faculty Data Report
, rising from 59.3% last year and 54.8% five years ago. At the same time, the percentage of full-time Black or African American faculty increased to 3.8% from 3.6% last year but has hovered between 3.5% and 3.8% over the past five years. The percentage of full-time Hispanic or Latino faculty increased from 5.7% to 5.8%. Five years ago the percentage was 5.4%.
Corporate Contributor News
CooperVision Expands Industry's First U.S. Plastic Neutral Initiative to Include All Silicone Hydrogel 1-Day Contact Lenses
Dr. Closson Joins JJV's Professional Education Team in Newly Created Position
Luxottica Eye Care Announces Student OneSight Participants
MacuHealth Expands Its Commitment to Optometry Students
Learn About the OCULUS Pentacam®
Topcon Introduces SOLOS Automatic Lens Analyzer
New Enhancements to VSP Eyes of Hope Gift Certificates Program
Optometry Student Internships Available
Member News
UAB School of Optometry Professor Emeritus William J. "Joe" Benjamin, OD, MS, PhD, has died. His life's work positively impacted optometric education as well as the lives of many optometric professionals and patients.
We sat down with Berkeley alum Reverend Dr. Clyde Oden, Jr., who talked to us about his quest to overcome inequities in health status and health services, the importance of acknowledging the spiritual needs of patients, becoming a community healthcare advocate and leader, and his belief that "To whom much is given, much will be required."
Katherine Weise, OD, MBA, FAAO, director of the Pediatric Optometry Service at UAB Eye Care, was selected from among hundreds of optometrists and ophthalmologists from the Pediatric Eye Disease Investigator Group (PEDIG) to serve as co-chair of the international research network, effective January 2024. The appointment lasts for five years.
On Tuesday, March 22, 2022, the New England College of Optometry (NECO) community gathered for the 2022 Scholarship Ceremony. The award recipients were honored for their notable leadership, scholarship, compassion, and clinical expertise.
Southern College of Optometry President Emeritus William E. Cochran, OD, has authored a new book, Optometry in Mississippi: 1920-2020.
Dana Mattingly, executive director of clinical compliance in the Aetna/CVS healthcare business unit based in Harrisburg, Pennsylvania, recently joined the Salus University Board of Trustees.
For the past five years, Rachel Brackley, OD '09, Resident '10, FAAO, has been working as the externship liaison to the Accelerated Scholars program at the Pennsylvania College of Optometry at Salus University, assisting the 12 to 14 students in that specialized program.
News to Share
The Optometric Historical Society invites all optometry students to submit an entry about an influential person, event or development in optometry history, in any form of media.
Know any teens interested in science? Tell them about our video contest! The National Eye Institute (NEI) is encouraging teens to explore careers in science, eye health, and research through the Eye on the Future campaign. NEI is especially interested in reaching teens from groups that are underrepresented in science.
The Neuro Optometric Rehabilitation Association (NORA) is now accepting abstracts for consideration for its 2022 General Conference, September 8-11, 2022 in Columbus, Ohio.
Are you a campus-wide interprofessional education (IPE) leader, director, or program coordinator? Or a residency/fellowship leader in interprofessional education for collaborative practice (IPECP)?
The Masters of Optometry and Vision Science Department at Hadassah Academic College in Jerusalem would like to invite you and additional Fellows of your institution to attend a unique optometric specialization course: "Sports Vision," directed by Dr. Paul Harris, world renowned lecturer and expert in his field of Behavioral Optometry.
An exciting part of the Annual Meeting and Expo, the film festival offers attendees another avenue to learn and sparks conversation about health in creative ways. We welcome public health films of all types and topics, including theme-related pieces and those that explore and highlight public health locally, nationally and globally.
10 Student/Resident Grants available; Deadline for applications June 15, 2022
The Angiogenesis Foundation has launched a new webinar series on retinal health to describe the importance of vascular stabilization for blood vessel health in the eye and throughout the body.
Association of Schools and
Colleges of Optometry
6110 Executive Blvd., Suite 420
Rockville, Maryland 20852
optometriceducation.org/