Past Issues
|
Subscribe
|
Send to a Friend
|
optometriceducation.org
May 2022
President's Ponderings
So "they" say, April showers bring May flowers, and more importantly May smiles. In academia, there are few events that make an impression like smiling optometry graduates making their way across the stage, except for the smiles of family and friends, often loaded up with flowers, congratulating their graduate immediately afterward.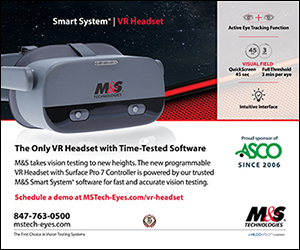 ASCO News
Join us Tuesday, June 28, 2022, from 1 - 2 p.m. ET for ASCO's Diversity and Cultural Competency Committee's Town Hall on The Social Determinants of Health and Healthcare Disparities: An Optometric Perspective. This interactive program will begin with an overview of the social determinants of health, and the healthcare disparities that play a role in both the access to and the quality of eye care for various patient populations. The subsequent discussion will focus on how this applies to optometric care and how providers can utilize this information to benefit their patients.
ASCO President-Elect Melissa Trego invites you to nominate yourself or a willing colleague to serve on an ASCO committee or task force starting this July.
ASCO's next Online Clinical Educators Forum (OCEF) is scheduled for Friday, June 3, 2022 from 12:30 p.m. – 2 p.m. ET and continues the communication theme and informal panel conversation style of the fall OCEF, which focused on family communication.
We are pleased to announce that the ASCO's Diversity and Cultural Competency Committee's Town Hall on Working with People with Disabilities: Providing Quality Care for People Who are Often Marginalized
recording
is now available.
The results of ORMatch 2022 were released March 9. ORMatch matches the student and the optometry residency program based on a mutual ranking algorithm. ORMatch has been in operation since 2013 after being established by ASCO.
ASCO announces the hiring of David O'Donnell. Mr. O'Donnell is ASCO's Director of Development. He began his tenure May 2.
Corporate Contributor News
CooperVision "Take Control: Myopia & You" Campaign Reaches Millions of U.S. Parents
A New Method of Refraction – Explained
eyeFWD at Optometry's Meeting
Students Learn About New Study of the Vitreous
National Vision Awards $12,500 Total to Three Optometry Student Winners of the 2021-2022 Scholarship Program
Topography for Custom Contact Lens Fitting
Optomed Polaris is a Fully Automated Desktop Fundus Camera Designed to Improve Clinic Efficiency
How NECO is Making Refraction More Efficient with Topcon Chronos
Visus Therapeutics Initiates Phase 3 Pivotal Trials of BRIMOCHOL™ PF for the Treatment of Presbyopia
VSP Global is Now VSP Vision
Optometry Student Internships Available
Member News
Kelly K. Nichols, OD, MPH, PhD, FAAO, UAB School of Optometry Dean, was awarded the Dr. Frank Fontana Career Achievement Award at the 2022 Southeastern Congress of Optometry (SECO).
Lawrence A. Ragone, OD '53, FAAO, who joined the Pennsylvania College of Optometry (PCO) faculty in 1965 and at the time of his retirement in 1993 held the rank of associate professor, passed away March 7, 2022, at the age of 94.
Each patient was provided with an eye exam, glasses if needed, and follow up care. Third- and fourth-year students performed all exams in the Midwestern University Eye Institute.
The UAB School of Optometry's (UABSO) chapter of the National Optometric Student Association (NOSA) has won the 2022 President's Diversity Champion award given by UAB's Office of the President and the Office of Diversity, Equity and Inclusion.
Optometry Student's Use of Augmented Reality Technology is Recognized with Ohio State Innovator Award, Sponsored by VSP Vision™
Danita Nias, president and CEO of the Community Foundation for Palm Beach and Martin Counties in Florida, has joined the Salus University Board of Trustees.
For the past five years, Rachel Brackley, OD '09, Resident '10, FAAO, has been working as the externship liaison to the Pennsylvania College of Optometry (PCO) at Salus University's Accelerated Scholars program assisting the 12 to 14 students enrolled.
Dr. James D. Sandefur, who recently retired as the longtime Executive Director of the Optometry Association of Louisiana, was selected to receive Southern College of Optometry's (SCO) honorary degree this year.
News to Share
This year's theme is Healthy Vision: A Family Focus — an opportunity to inspire families to team up and learn how to protect their vision together! The National Eye Institute (NEI) is centering this year's campaign around people who are more likely to have eye problems because of barriers in access to eye care. NEI is also sharing simple steps we can all take to protect our vision.
The American Academy of Optometry's Innovation Council is pleased to present a special two-hour COPE-approved CE event with the inaugural, Virtual Innovation Summit.
The American Academy of Optometry in conjunction with the Pacific Northwest Chapter, in collaborate with our educational partner, Northwest Eye Surgeons.
Prevent Blindness has updated the FREE toolkit, Diabetes & The Eyes, offering educational materials on diabetes and the impact of diabetes on eye health.
Registration is now
open
for the Neuro-Optometric Rehabilitation AssociationTM, International (NORA) 32nd annual conference, September 8-11, 2022 at the Hyatt Regency Columbus, Columbus, Ohio.
Association of Schools and
Colleges of Optometry
6110 Executive Blvd., Suite 420
Rockville, Maryland 20852
optometriceducation.org/