Past Issues
|
Subscribe
|
Send to a Friend
|
optometriceducation.org
August 2022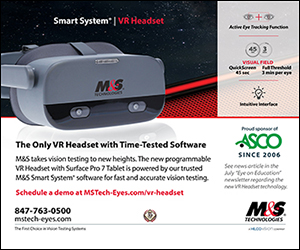 ASCO News
ASCO was thrilled to attend the National Optometric Association's (NOA) annual conference in Anaheim in July. The mission of NOA is advancing the visual health of minority populations.
An
article
published in July entitled,
These are 10 best U.S. jobs of 2022, according to new research—many pay over $100,000
, names the career of Optometry as the second best job in the U.S.
ASCO leaders recently met in Rochester, New York, to start planning Phase II of Optometry Gives Me Life (OGML), ASCO's public awareness campaign to help educate and encourage college students to consider a career in optometry.
ASCO experienced a 1% increase in applicants for the 2021-2022 OptomCAS application cycle compared to 2020-2021. ASCO had seen 4% and 5% increases in the number of applicants the previous two cycles.
After two years of virtual annual meetings, the ASCO Student Affairs Officers (SAOs) finally met in person at the Illinois College of Optometry on June 13-14. They discussed a variety of issues, including the
Optometry Gives Me Life
(
futureeyedoc.org
) public awareness campaign, OptomCAS, and the use of standardized exams in the admissions process.
ASCO staff was very busy in June promoting ASCO's Optometry Gives Me Life public awareness campaign, the Inspiring Future ODs Ambassador Program, as well as the career of optometry. Staff attended the 2022 American Optometric Association (AOA) Optometry's Meeting in Chicago, the National Association of Advisors for the Health Professions (NAAHP) in Denver and the HOSA International Leadership Conference in Nashville.
ASCO's Board of Directors, invited guests and staff gathered in Chicago in person for the Summer Board of Directors meeting as well as the Annual Meeting.
A number of newsworthy activities took place at ASCO's 2022 Annual Meeting held in Chicago this past June.
Madison Broderick joined ASCO's team in late May 2022. Madison is a student at the University of Central Florida where she is majoring in nonprofit management. She is going into her third year at UCF. Go Knights! Madison will be interning with ASCO's Meetings and Special Interest Groups (SIGs) department.
Maddie Arbaugh became part of ASCO's team as an intern in July 2022. She is currently a junior at the University of Maryland in College Park, majoring in Communication with a specialization in Public Relations.
Corporate Contributor News
Please Join us in Welcoming Two New Members to the EssilorLuxottica Eye Care Team
Taking MacuHealth Gives These Patients Life
Images Can Be Just as Good as In-person Evaluations
Carillon Vision Care is Adding Clinical Value with MYAH
First-Ever VSP Premier Program Student Business Challenge Winner Announced
Member News
It's not a long list, but it is a distinguished one in the history of the Pennsylvania College of Optometry (PCO) at Salus University: Albert Fitch, OD '36, founder and president of what was then called the Pennsylvania State College of Optometry (PSCO); Norman Wallis, OD, PhD, FAAO, president of PCO from 1972 to 1979; and Thomas Lewis, OD '70, PhD, FAAO, president of PCO from 1989 to 2008 and president of Salus University from 2008 to 2013.
David A. Damari, OD, has joined The Ohio State University College of Optometry as a Clinical Professor, effective July 1, 2022.
Midwestern University's Chicago College of Optometry (CCO) held its fourth Annual Summer Eye Experience (SEE) program on the Downers Grove Campus for 30 college students and recent graduates interested in pursuing a career in optometry. Students representing states spanning from California to Florida attended the three-day program that took place in June.
The American Optometric Association (AOSA) Annual Student Bowl was held in Chicago on June 17. AOSA Trustee Melissa Rezk, Baldemar Torres (AOSA Trustee-Elect), Emmy Tian, and NOSA President Joanna Lopez, represented Berkeley Optometry at the AOSA Student Bowl. Emmy Tian won third place – she was leading by a significant margin up until the very last round! In addition to this great result, Melissa Rezk was nominated to be Vice President of the national AOSA Executive Council and Baldemar Torres was named Lead of AOSA's DEI Interest Group, a role usually reserved for a third year!
Doctor of Optometry students at the Pennsylvania College of Optometry at Salus University recently volunteered to be part of the staff serving the Remote Area Medical (RAM) group's mobile medical clinic at the Pennsylvania Convention Center located in Philadelphia for two consecutive days.
When Kaylea Ellison, PBHS '22, received rejection letters from the optometry schools to which she had applied, she described it as "gut-wrenching." But it also strengthened her resolve to find another path to achieve her goal of becoming an optometrist.
On June 2, Midwestern University's Arizona College of Optometry celebrated the class of 2022 by graduating 52 new optometrists.
Wayne Tan, OD '21, Resident '22, on-campus primary care/ocular disease resident at The Eye Institute (TEI), along with Tina Choe, OD '20, Resident '22, off-campus resident, have been named the Bernard Blaustein Residents of the Year for the residency class of 2022 by the Pennsylvania College of Optometry (PCO) at Salus University.
Jason Nichols, OD, MPH, PhD, UAB School of Optometry professor and the UAB Office of Research's senior associate vice president for research, received the 2022 Donald R. Korb Award. Given by the American Optometric Association (AOA) Contact Lens and Cornea Section, the award recognizes an individual who has been a true innovator and leader in the field of contact lenses and anterior segment disease.
Mawada Osman, OD, MS, FAAO, has been appointed as an Assistant Professor of Clinical Optometry in The Ohio State University College of Optometry, effective July 1, 2022.
Several SCO faculty members received new faculty rank promotions, effective July 1
News to Share
CFO Richard Jones to Serve as Interim Chief Executive Officer
This September,
Interprofessional Education Collaborative
(IPEC) invites you to spend three jam-packed days of inspiring speakers, interactive panel discussions, and learning and networking activities at the Omni Shoreham in Washington, DC.
Prevent Blindness has updated its Healthy Eyes Educational Series, a FREE resource designed to build awareness about eye health and vision basics, common adult vision disorders, eye safety precautions, and proactive behaviors that give the best chance for a lifetime of healthy vision.
The American Academy of Optometry Foundation (AAOF) announces Binod Rayamajhee as the 2022 recipient of the Joe and Janet Barr Early Career Cornea and Contact Lens Research Award, which provides a first- or second-year MS or PhD student in vision science or physiological optics with $2,000 of seed funding for research in the area of cornea/ocular surface or contact lenses.
Association of Schools and
Colleges of Optometry
6110 Executive Blvd., Suite 420
Rockville, Maryland 20852
optometriceducation.org/